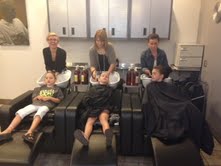 Back to school check list:
___ No. 2 Pencil
___ Notebook
___ Folder
_X_ Haircut
Check that haircut off your kids back to school list!
Accolades will lather them with style! Whether it is a new class, new school, or just a new look! Our amazing stylists will ensure your kids fist day back to school will be a confident one!